Sed.Sport per carico pass.personal.post.
BMW 320si E90
Sedan Europa
N45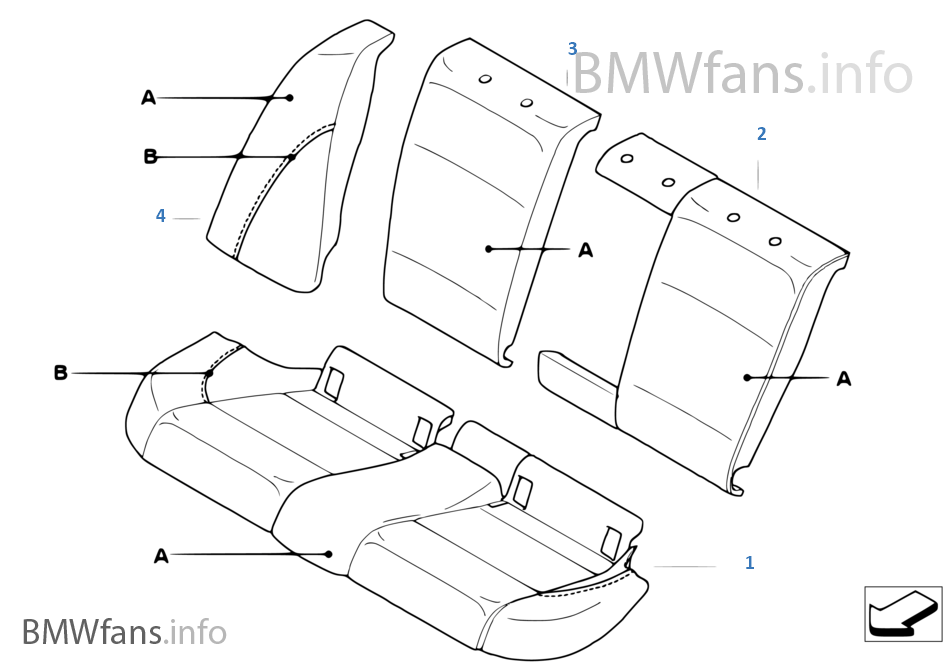 Supplemento
Solo adatto per veicoli individuali con Codice cuscinetto Z1XX
------------------------------------- Attenzione ! Pezzi di serie ou montaggio Success. non possibile via questo no. di Ordinazione. . Il fatto che i veicoli individuali sono Equipaggiati anche con pezzi di serie, Bisogna mettersi al sicuro anzitutto Che il pezzo di ricambio desiderato non È un pezzo di serie. ---------------------------------------- Indicare nell'ordinazione: . Pezzo di ricambio per veicolo Individuale: - no. di ricambio - no. die concessionario - no. die telaio . Montaggio success. di un pezzo di Ricambio individuale: - no. di ricambio - no. di concessaionario - no. di telaio
- (A) N° cat. pelle - (B) Indicazione colore filo impuntura
Per veicoli con
Sedile sportivo (
S481A
)
= Sì
#
Descrizione
partnumber
Supplemento
Data

Quantità

Carico
Prezzo

EUR

Rivestimento sedile sport cuoio post.

1

da set '05
1
Rivestimento spaliera, cuoio, post. sinis.

2

da set '05 a mar '06
1

2

da mar '06
1
Rivestimento spaliera, cuoio, post. destra

3

da set '05 a mar '06
1

3

da mar '06
1
Part.lateral sinistra

4

da set '05
1
Part.laterale destra

4

da set '05
1
The contents of the BMW parts & accessories catalog provided for acquaintance purposes only.
Part numbers, descriptions, prices and applicability information have been obtained from public sources on the Internet. We are not responsible for any data inconsistency and possible inconvenience caused. Contact your local parts supplier to get precise information about parts.